Concerts by the Sea – Natalie Gelman
Event Navigation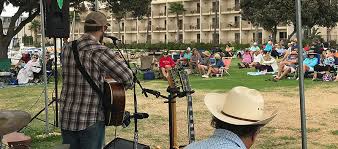 Set against a summer sky with the sparkling water as a backdrop, visitors can enjoy a multitude of musical selections with the "Concerts by the Sea" Summer Concert Series. A wide array of musical entertainment is offered including Rock, R&B, Jazz, Blues and Swing. Visitors are encouraged to bring picnics, blankets and lawn chairs and enjoy this fun family evening.
August 3, 2019 – Natalie Gelman – Contemporary & Folk – Often compared to Sheryl Crow, Jewel and Joni Mitchell, Natalie's music is contemporary and timeless. She writes honest, heartfelt songs – responding to current affairs and revealing parts of her inner self with the world. "Not too much about her, but somehow about me & everyone in the audience as well."
A modern day troubadour, Natalie performs across the country tirelessly and recently completed her first 10 week European tour in support of Streetlamp Musician. An album she released with producers Charlie Midnight (James Brown) and Mark Needham (The Killers) and titled after a song she wrote about street performing and watching New York City change over time. Come join us and watch Natalie's stunning performance.
Related Events
Comments
comments