Mick Foley: The Nice Day Tour at Levity Live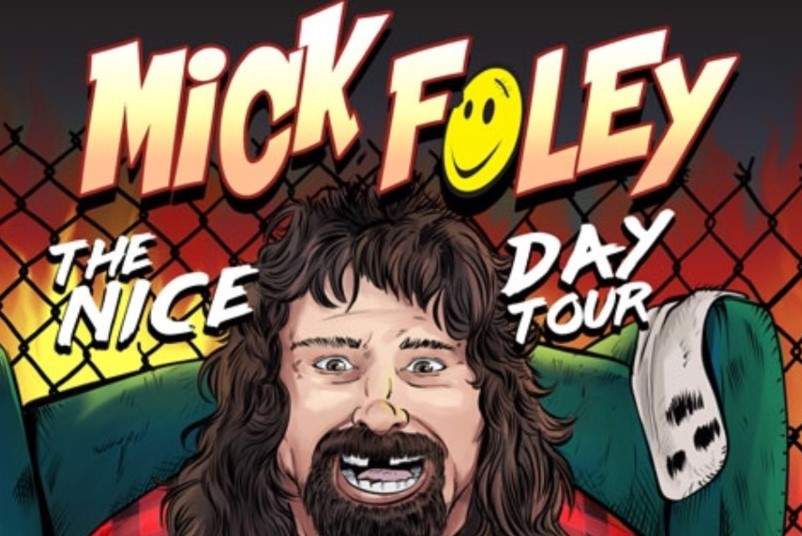 Mick Foley is a legendary professional wrestler, turned multi-time best-selling author , turned stand-up comic/spoken word performer.One of the cornerstones of WWE's meteoric rise in the late 90's, Mick Foley earned the nickname 'The Hardcore Legend' for his ability to absorb seemingly inhuman punishment in some of the most dramatic matches in sports-entertainment history. Already a respected veteran for his 11 physically punishing years wrestling under the name Cactus Jack, Foley's career soared to new heights in WWE as 'Mankind', a character Foley claimed was inspired by a combination of reading 'Mary Shelly's Frankenstein' and listening tothe music of Tori Amos. As Cactus Jack, Foley won the 1995 'King of the Deathmatch' tournament in Yokohama, Japan, and continued wrestling, despite the amputation of his right ear, in a match against Vader in Munich, Germany in 1994.
With retirement looming as a result of that physically demanding style, Foley penned his own memoir, 'Have a Nice Day' without the aid of a ghost-writer – writing 200,000 words in longhand in 50 days. The book showcased Foley's paradoxical blend of wit and wisdom, wildness and warmth, and shocked the literary world by hitting number one on The New York Times best-seller list in October, 1999. The book remained on the Times list for twenty six weeks. A follow-up, 2001's 'Foley is Good' hit number one on The New York Times list as well.
Foley decided to take his verbal skills to the stand-up comedy stage in 2009. 2012 saw Foley earn rave reviews for his comedy sets at 'Just for Laughs' in Montreal, and the 'Edinburgh (UK) Fringe Fest' – the two largest comedy festivals in the world. He is currently represented by Innovative Artists. Foley's acting credentials include '30 Rock', 'Warren the Ape', Now and Again', 'G vs E' and 'Boy Meets World' and he was featured in the critically acclaimed documentary 'Beyond the Mat' He has done voice work on 'Squidbillies' 'Celebrity Death Match' and 'Avatar: the Last Airbender' and was featured in a 2012 episode of 'Celebrity Wife Swap'. His list of guest appearances include 'The Daily Show with Jon Stewart, 'The Late Show with Jay Leno', 'Late Night with Conan O'Brien', 'Who Wants to be a Millionaire', 'Good Morning America', 'Family Feud' 'Redeye', 'Larry King Live' and several appearances on 'Today'. He was featured in a 2010 story on 'ABC's World News Tonight' for his work as an online volunteer with RAINN, the nation's largest anti-sexual assault organization. Foley was also recognized for his work with RAINN at 2010's 'Rally to Restore Sanity and/or Fear' – where he was awarded a Medal of Reasonableness' from Jon Stewart
Related Events
Comments
comments