Veterans Day Parade and Ceremony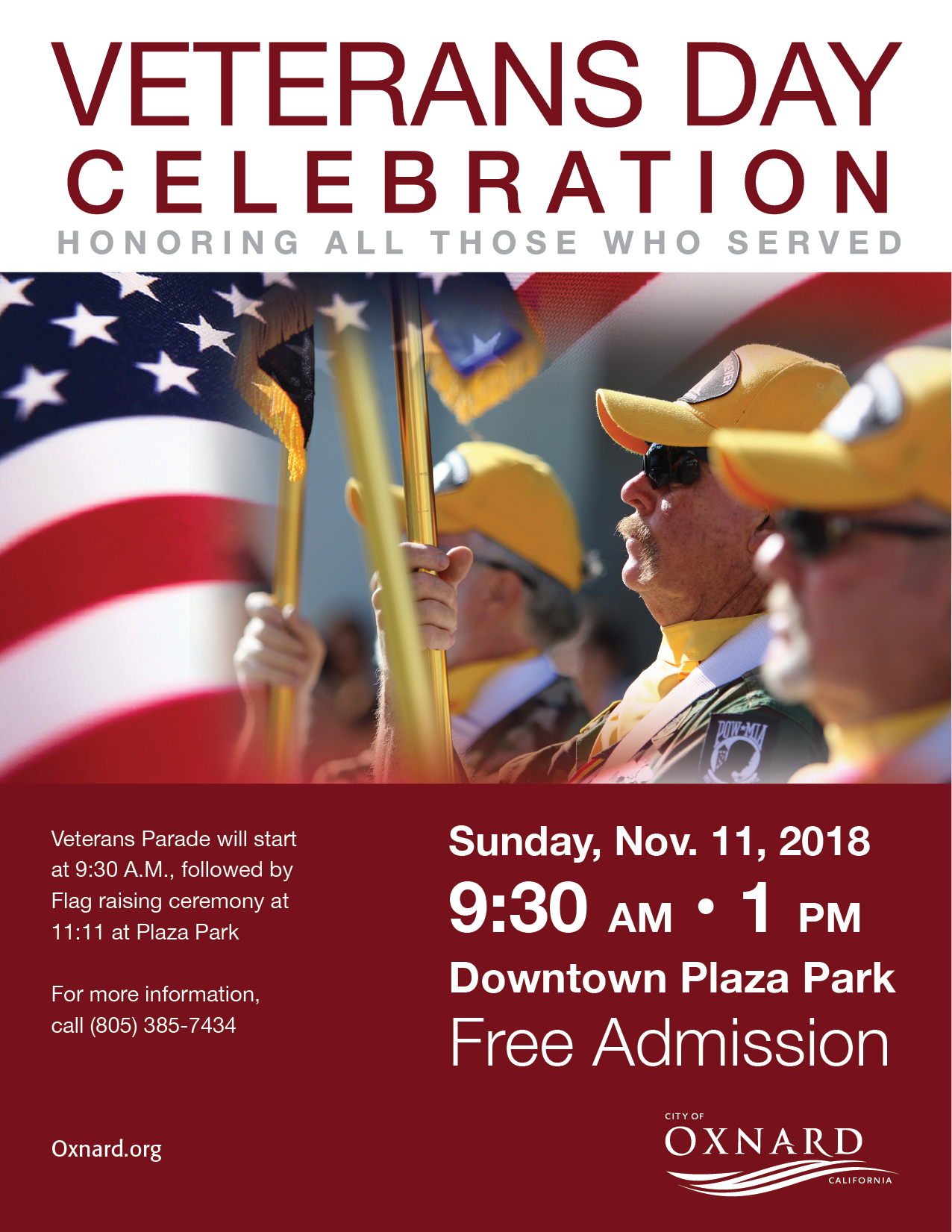 The community is invited to attend a free Veterans Day parade and ceremony to honor the sacrifices made by those who have served our country. This year's event, on Sunday, November 11, 2018 will begin at 9:30 a.m.
The parade will extend down Ninth Street to C Street to 4th Street before ending at Plaza Park at approximately 11:11 a.m. Featured parade participants include the American Legion Riders Chapter 48, Vietnam Veterans of Ventura County, Topa Topa Flywheelers, Oxnard High School AFJROTC and the Hueneme High School NJROTC. This year's parade Grand Marshall is Sergeant Major Marty Vasquez, Retired Executive Director, 1st Marine Division Association. Born in Santa Paula, California.
At 11:11 a.m., the ceremony will begin promptly at Plaza Park, 500 S. C St.
All county public transit operators including Gold Coast Transit District (GCTD), www.goldcoasttransit.org, and the Ventura County Transportation Commission (VCTC), www.goventura.org, will provide free bus rides on Nov. 11, to U.S. veterans who present valid military identification upon boarding. Valid identification includes veterans identification cards issued by the U.S. Department of Defense and Department of Veterans Affairs and the veterans designation listed on licenses/identification cards issued by the Department of Motor Vehicles. GCTD and VCTC buses will operate on their regular schedules during the holiday.
For more information, visit Oxnard.org or contact Martha Guillen at (805)385-7434 or by email: martha.guillen@oxnard.org
Comments
comments