Ahmed Ahmed and Manny Maldonado at Levity Live
Event Navigation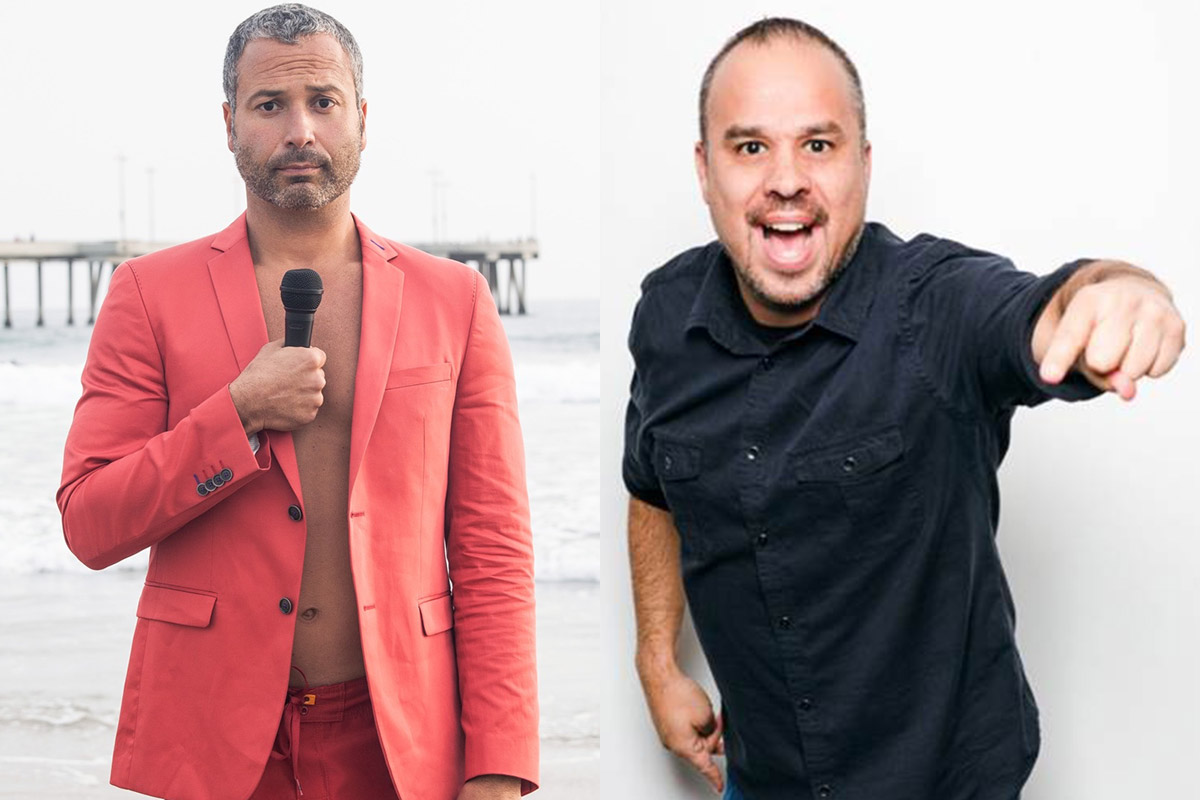 Manny Maldonado's Bio
Funny, Energetic, those are some of the words to best describe funny man Manny Maldonado! Manny was born in Modesto California, and raised in an even smaller town called Ceres Ca. He worked odd jobs here and there including as a dispatch supervisor for a medical supply company. As a dare from his friends he tried stand up comedy. The rest was history! A respected , well liked comic in The Stand Up Comedy Scene. Manny's comedic style is best described as relateable , high energy, and no holding back. His unique ability to crossover to a mainstream audience is making him one of the hottest comics working today. Manny has worked with comedians Dave Attell, Dave Chappelle, Tommy Davidson, as well as musical greats Shelia E, Julio Iglesias, Eddie Money, and War. In 2010 along with Emmy Award Winning Actor Bryan Cranston he performed for former New Mexico Governor Bill Richardson. Manny was chosen as a writer for the 2012-2013 CBS Diversity Showcase . He has also performed on The Latin Kings of Comedy tour with Paul Rodriguez. In 2018 Manny performed at Just for Laughs Comedy Festival In Montreal . Manny performs at clubs, colleges, comedy clubs, theaters, and military overseas as well. Manny's television credits include Comedy Central's Comedy Rehab, ABC'S Comics Unleashed, Comedy. TV Galavision's Que Locos, B.E.T. Comic View, Starz Network Stand UP, The Dr. Phil Show as a guest panelist, Kevin Hart's Lol Network. Manny Maldonado can currently be heard on Sirrus XM Radio, Raw Dawg Comedy, and Pandora Radio.
Ahmed Ahmed's Bio
Egyptian-American actor, comedian, producer, and director Ahmed Ahmed is one of the most diverse, multi-faceted talents in the entertainment industry today. In 2014, he can be seen starring as "Ahmed" on TBS' hit comedy series Sullivan & Son. Executive Produced by Vince Vaughn, the show follows Steve Sullivan [Steve Byrne], a corporate lawyer who surprises his parents when he leaves his job to take over a bar owned by his father in Pittsburgh. Ahmed made his first appearance as unlucky in love, tow-truck driver [and best friend to Steve] "Ahmed" in season one, and joined the cast as a series regular in season two, quickly becoming a fan favorite. Ahmed is currently the only Arab-American actor playing a non-stereotypical role on a comedy sitcom, today. His first big break was in the suspense, action film Executive Decision alongside Kurt Russell, Steven Segal, and Halle Berry in 1996. Ahmed went on to appear in a handful of blockbuster and cult hit features including Swingers, Iron Man, and You Don't Mess With The Zohan. On the television front, Ahmed has appeared on top series such as Tracy Takes On, Weeds, and Roseanne to name a few. In 2011, Ahmed made his directorial debut with his groundbreaking documentary Just Like Us. The film premiered at Tribeca Film Festival, and went on to be selected at 30 international film festivals, winning several "Best Director" and "Best Documentary" awards.
While working in film and television Ahmed's profile in comedy continues to rise, being hand picked by Vince Vaughn for his Wild West Comedy Tour [2005-present]. Vaughn is currently producing the first ever Wild West comedy festival in Nashville, TN where Ahmed will hold the roll of Comedy Ambassador, performing and hosting shows. In 2005, Ahmed cofounded and performed in the Axis of Evil Comedy Tour which aired on Comedy Central as the first ever Middle Eastern stand up comedy special. Ahmed is also the winner of the first annual Richard Pryor Award for Ethnic Comedy at the Edinburgh Comedy Festival in Scotland. Ahmed is currently a paid regular performer at the world famous Comedy Story in Hollywood, The Laugh Factory, and the Comedy Cellar in New York City. He regularly tours nationally and internationally, and in summer 2014, Ahmed will hit the road for the Sullivan & Son Comedy Tour with his cast mates from the series, hitting 20+ markets across the country. Ahmed is a true believer that laughter heals, and that comedy can bridge the gap between communities across the world.
Related Events
Comments
comments