Concerts by the Sea – Sean Wiggins & Lone Goat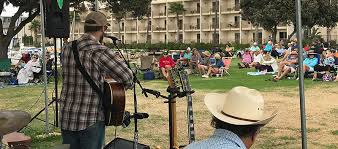 Set against a summer sky with the sparkling water as a backdrop, visitors can enjoy a multitude of musical selections with the "Concerts by the Sea" Summer Concert Series. A wide array of musical entertainment is offered including Rock, R&B, Jazz, Blues and Swing. Visitors are encouraged to bring picnics, blankets and lawn chairs and enjoy this fun family evening.
July 13, 2019 – Sean Wiggins & Lone Goat – Country – Sean and her band Lone Goat have toured the U.S., playing more than 150 dates per year while opening for and sharing stages with the likes of Montgomery Gentry, Blues Traveler, Cyndi Lauper and the Bodeans. As an award winning writer and performer, Sean has music placement in films, on TV, and on the radio both nationally and internationally.
Related Events
Comments
comments