Footworks Youth Ballet present The Nutcracker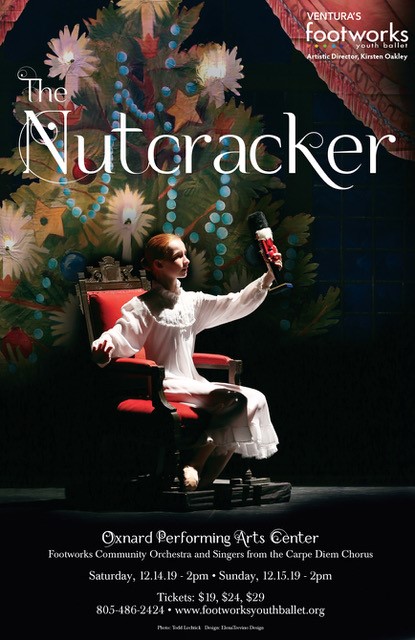 FOOTWORKS YOUTH BALLET presents two full-length performances of the Christmas classical ballet THE NUTCRACKER, performed with The Footworks Community Orchestra and singers from the Carpe Diem Chorus.
Come join Footworks Youth Ballet for their 15th Anniversary performance of The Nutcracker, the all-time family classic and holiday treat. A traditional holiday party and a very typical sibling rivalry set the stage for an entertaining fantasy journey to the Land of Sweets. With a cast of about 60 children and teens, Footworks Youth Ballet's 15th annual production of The Nutcracker will dazzle audiences with its colorful costumes, professional sets and live orchestra and choir. In keeping with the mission of Footworks, student dancers often perform in principal roles such as the Sugar Plum Fairy or Snow Queen, giving young artists opportunities not found elsewhere.
Join Footworks Youth Ballet for their Family Educational Hour one hour prior to each show to learn about the production, costumes, ballet history and music. To provide more family-friendly options to attend the performances, Footworks Youth Ballet offers matinees on both regular performance days (December 14th and 15th at 2 p.m.).
Footworks Youth Ballet is a nonprofit ballet company whose purpose is to provide educational opportunities to young people through the art of ballet.
Related Events
Comments
comments