Meet the Author – Doug and Caroline Chamberline "The Backbone Trail"
Event Navigation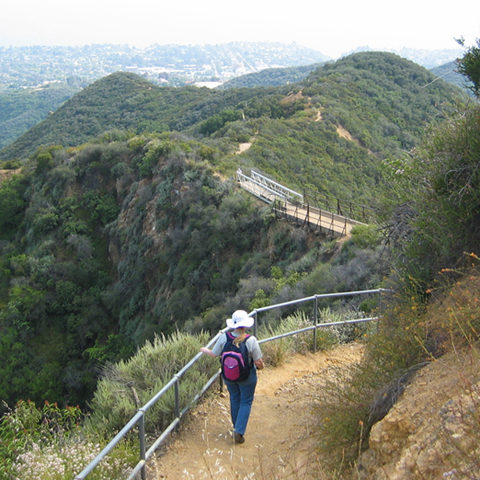 The Backbone Trail is the 69-mile hiking footpath which follows the spine of the Santa Monica Mountains from Los Angeles to Oxnard, California. A wilderness trek at the back door of the second largest metropolis in the United States, the Backbone Trail offers a beautiful getaway within a hundred miles of eighteen million people.
For city-weary Southern Californians, a hike on the Backbone Trail offers lovely forests, waterfalls and streams, cliffs and canyons, backcountry dirt roads, the occasional deer spotting, vistas of endless ridges, and windswept peaks with panoramas looking down on a thousand square miles of Pacific Ocean.
Recently completed after forty years of work, the Backbone Trail has been officially designated as a national recreation trail. It crosses through four state parks, as well as the Santa Monica Mountains National Recreation Area and Santa Monica Mountains Conservancy lands.
Meet Doug and Caroline Chamberlin, authors of the new book, The Complete Hiker's Guide To The Backbone Trail, which describes in detail the twenty segments of the Backbone Trail in a format suitable for day-hikers or through-hikers.
Comments
comments