Rock the Collection – Yachtley Crew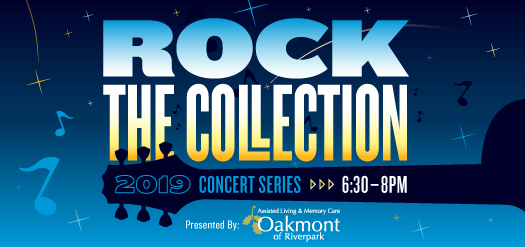 Rock the Collection presented by our new neighbors Oakmont Senior Living is headed back to Collection Park this June! The Collection at RiverPark invites the community to 'Take it Easy' and enjoy a free summer concert series kicking off this month. Every other Thursday from June 27th- August 22nd 630pm to 8pm. "We Will Rock You" at Collection Park with timeless classics featuring a lineup of top rock and roll cover bands. Get Ready to jam!
August 22nd – Yachtley Crew is a Los Angeles area based band of talented and tenured musicians with a common set of goals: to entertain music lovers with some of the greatest songs ever written back in the late 70's and early 80's, and to have as much fun as possible while performing those hits. Some fans may know it as "soft rock", others may identify it as "yacht rock", a more recently coined phrase. One thing is for sure, Yachtley Crew takes their sound very seriously. "They pay tribute to the songs by nailing the performances, but also blow the crowds away with their live presence, group banter and on-stage antics", said one scribe… Be sure not to miss this first-class tribute coming soon to a club, ship or yacht near you!
Related Events
Comments
comments