Oxnard PAL National Boxing Championships
Event Navigation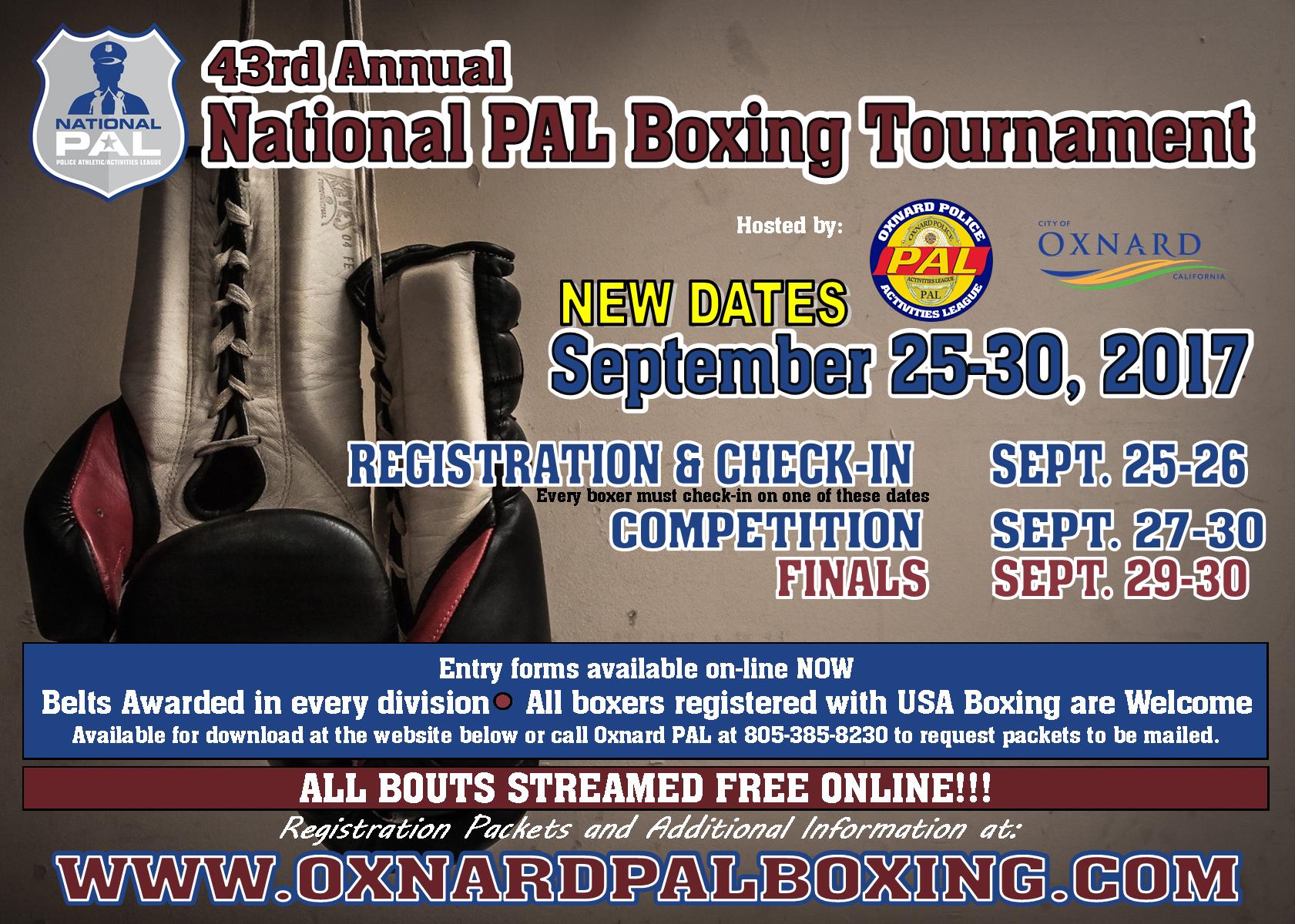 The Oxnard Police Activities League (PAL) invites the community to enjoy six days of action-packed bouts during the 42nd annual National PAL Boxing Championships Monday, September 25, 2017, through Saturday, September 30, 2017, at the Oxnard PAL Gym, 350 S. K St.
As one of the largest and most prestigious amateur boxing competitions in the nation, the National PAL Boxing Championships is expected to draw more than 350 competitors from across the country. Each day of the championships features up-and-coming male and female pugilists ages 9 to 40 who will compete head-to-head in novice and open level divisions. Spectators can choose between scintillating performances that will unfold simultaneously in three separate rings. The public can purchase tickets at the door on event days. General admission tickets cost $10 for adults 18 and over and$5 for children ages 6-17. The event is free for kids 5 and under. Multiday passes cost $30 each.
The event schedule is listed below. Dates and times are subject to change without notice, and start and end times are approximate. Read more about the championships at www.oxnardpalboxing.com.
Wednesday, September 27, 2017 through Friday, September 29, 2017: Doors open at 11 a.m., and bouts run from 12-4 p.m. followed by evening bouts from 6-10 p.m.
Saturday, September 30, 2017: Finals Doors open at 5 p.m., opening ceremonies begin at 5:30 p.m. and bouts run from 6-10 p.m.
The Oxnard Police Activities League is a citywide after-school crime prevention program designed to build positive relationships among youth, police officers and the community. Recreational, educational, enrichment and mentoring programs are offered to youth ages 7 to 18 at no cost. Read more about the program at www.oxnardpal.org. The City of Oxnard is a full-service general law city incorporated in 1903. Oxnard is the largest and most populous city in the County of Ventura, serving 200,000 culturally diverse residents. Read more about the City of Oxnard at www.cityofoxnard.org. Follow us on social media at www.twitter.com/CityofOxnard (@CityofOxnard), www.facebook.com/CityofOxnard and www.vimeo.com/cityofoxnard.
Comments
comments